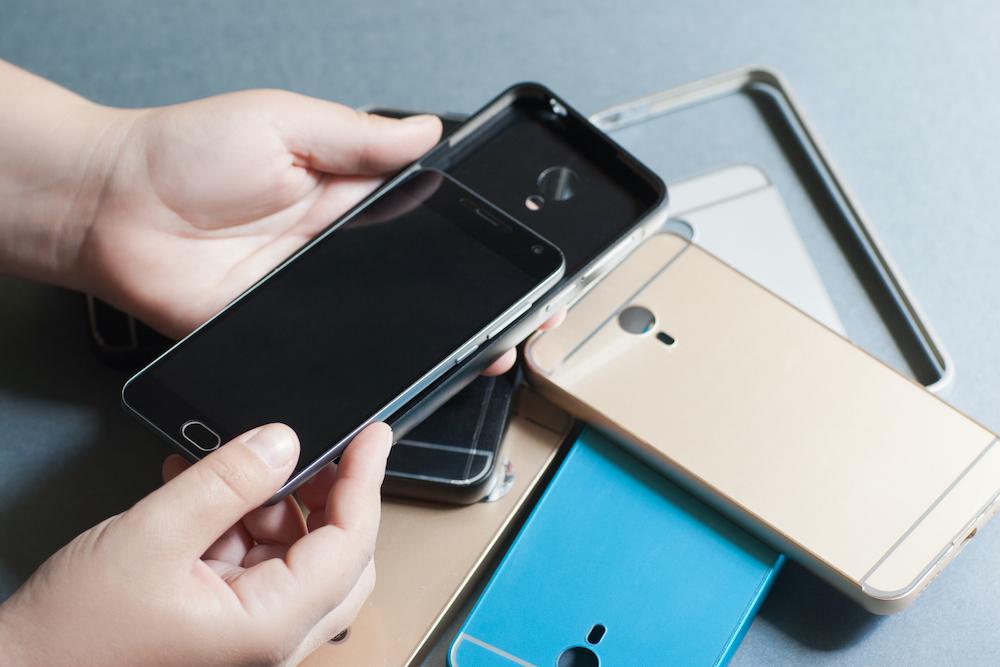 Choosing the Best Material for Your Phone Case
A casual stroll down the phone case aisle or a quick browse through the endless Amazon listings will reveal one thing: a phone case can be made out of practically any material. From plastic to leather to silicone, there are so many options to choose from these days. 
With so many options, it can be challenging to choose between them. So, let's take a look at a few common materials and see what makes them the best phone case material for you. That way, you can go into your next case shopping journey educated, informed, and ready for anything.
WHAT IS THE BEST MATERIAL FOR YOUR PHONE CASE?
PLASTIC
If you're living in the 2020s, you know that plastics are everywhere. Their manufacturing flexibility, value, and durability make them a top pick for most case makers.
However, not all plastics are created equal, and several varieties serve different purposes. Two of the most common in cases are thermoplastic polyurethane (TPU) and polycarbonate (PC).
Without getting into the dizzying science of polymers, generally, PC is very rigid. In contrast, TPU is slightly softer and more flexible. Don't think of TPU as rubber or silicone because it does maintain its structure more than those materials, just less than PC. TPU is excellent at absorbing impact shock while maintaining shape and durability due to its thicker build. 
Additionally, a plastic case is as easy as 1-2-3 to click into place. Simply snap each corner on and receive stable protection. And let's not forget that plastic phone cases are a lightweight option, so there's no added weight to your pocket, purse, or hand. 
Many cases employ both these types of plastic or even other varieties to take advantage of each's benefits.
PLASTIC CASE PROS
Highly durable and impact-resistant
Excellent value-for-money ratio
The most common case material, available from dozens of case makers in a gigantic range of styles
PLASTIC CASE CONS
Depending on the quality of the materials used, plastic can sometimes feel hollow or cheap
Not a sustainable material
Clear plastic phone cases yellow with time and wears with sunlight exposure
SILICONE
Silicone is a distant cousin of traditional plastic.
Crafted from bases of petroleum and the element silicon, silicone is a highly useful material in cases and beyond. Softer and more flexible than many plastics, silicone is also an excellent shock absorber that feels comfortable in your hand.
Silicone lends a decidedly different look to devices, and because of its softness, it is quite easy to apply and remove to a phone. Just try slipping your phone in and out of your case to understand why silicone is one of the best phone case materials. 
If you find yourself googling "best phone case material," silicone is sure to come up more than once. In addition to its soft feel, affordability, and protective capabilities, it's also a highly eco-friendly option. Not only is the creation of silicone much more natural, but it also does not emit harmful chemicals when destroyed. When this case has served its life, you can feel comfortable disposing of it. 
Not sold yet? Check out a few more pros and cons of this top material for phone cases.  
SILICONE CASE PROS
Very inexpensive
Silicone's squashy nature is naturally easy to grip
Wide variety of interesting styles and colors available
SILICONE CASE CONS
Does not wear particularly well, attracting fuzz, hair, and dirt over time
The grippy finish is not very easy to slot into a pocket
Some cases tend to slip off of devices
LEATHER
For the discerning, sophisticated phone user, a leather case reflects worldly refinement.
A classic leather case doesn't fuss with plastic or other manufactured materials. Only the finest cattle hides will do.
If you live in a temperamental climate, leather may be the best phone case material for you. Since leather is a porous material, it allows heat to escape and cool air to come in. This means that, while you still shouldn't leave your phone in the sun, this material can help keep your phone from overheating and shutting down on you.
Often, leather cases also include wallet features, packing in more features into a small package.
Plus, if you'd rather not spend the money, or are opposed to using real leather, there are a multitude of synthetic options that mimic the look available.
The best part of this phone case material? It's long lifespan. When taken care of correctly, leather can last for years. A one-time payment and you're covered for a while — we're sold!
LEATHER PHONE CASE PROS
Eye-catching and tactile texture
Positively oozes sophistication
Slightly rough, soft texture is easy to hold and slip into a pocket or bag
LEATHER PHONE CASE CONS
Significantly more expensive than plastic options
Thin material offers minimal drop protection
The natural material is more prone to scratches or tears
WOOD
Sometimes we find ourselves surrounded by artifice. Between all those pixels, plastics, and politics, sometimes it's difficult to remember our connection to the real world. Rekindle your link to the natural earth with a wooden case.
It lends a handcrafted, organic charm to your high-tech device that's something entirely different from what you typically see. Bamboo is a popular choice for wood cases and will protect against scratches and light use. However, it may crack or chip if dropped.
Wood, in general, is one of the best phone case materials for its durability and lifespan. Though some wood may not withstand every accidental drop, others can actually handle more damage than plastic. 
WOOD PHONE CASE PROS
A more sustainable option than plastics or other synthetics
Extremely stylish and elegant
Many people enjoy the texture of the natural wood grain
WOOD PHONE CASE CONS
Prone to nicks and cracks if dropped
More limited style choices, some device models may not have wood options available
A tendency to be thicker and bulkier than other options
CONCLUDING THOUGHTS
As you can tell, no one material leads the pack when it comes to that magic triangle of value, style, and protective benefits. It's up to you to pick the best material for a phone case that's right for you. Want a kick start on your phone case search? Use code MATERIAL15 for 15% off your next protective, stylish phone case from SaharaCase.
Check out our store page on our website for a wide variety of styles, colors, and materials, all part of our signature line of Protection Kits. Protect your world with SaharaCase!