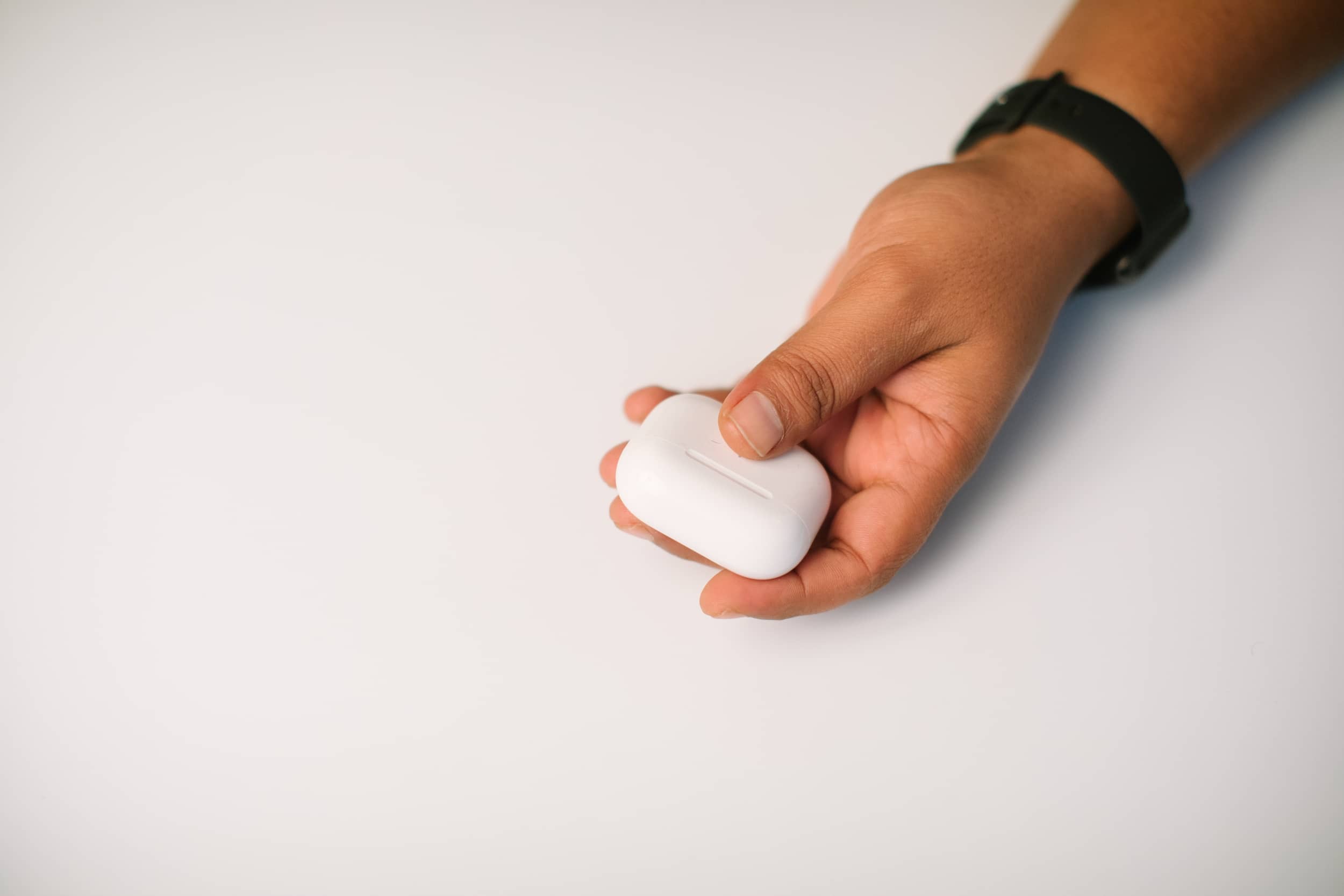 Top 12 Airpod Cases in 2022
It seems everyone nowadays is carrying around a little glossy white box. No, it's not floss — it's AirPods! These Bluetooth wireless earbuds have taken the world by storm. 
Given how ubiquitous and successful Apple's foray into wireless audio has been, there has been no shortage of AirPods case options. Today, we're going to discuss how to choose the right AirPods case for you and share the 12 best AirPods cases on the market. Keep reading to find the best options for your new favorite headphones!
Choosing the Best Airpods Case
We've ventured into the wide world of AirPods protective cases to find some of the fantastic options available to you. Here are the criteria we used to identify the best AirPods cases that belong on our top 12 list.
It should be protective. The best AirPods cases should offer at least some defense against scratches and chips.
It should be unique. Given that everyone and their dog seems to have a pair of AirPods, a case should lend some individual personality to your own set. An aesthetic AirPods case becomes rather helpful if, for instance, two AirPods cases get left on a table. Plus, there are a ton of fun options out there to express yourself!
It shouldn't interfere with wireless charging — one of the AirPods' best features.
It should be affordable. The AirPods are already notoriously pricey. Let's not add to the bill with an overpriced iPhone AirPods case. The cases on our list are high-quality but still affordable.
All that said, without further ado, here are our picks for the top 12 best AirPods cases on the market today.
12 Best Airpods Cases
From simple silicone cases and leather options to plush animals and rugged cases, we've got the whole suite of the best AirPods cases. Read on to find your favorite! In no particular order, here are the top 12 AirPods cases in 2022. 
1. SaharaCase Silicone Case for AirPods
Our silicone case for AirPods is precision-engineered for a seamless fit over the AirPods charging case. The high-quality silicone offers impact protection without adding bulk to the case. This cool AirPods case also offers much-needed grip, especially as the bare AirPods case tends to be a bit slippery for our liking. The case includes a strap and a carabiner for easy attachment to a belt or a bag, which, after using, is something we now can't live without.
If that's not enough value, the SaharaCase silicone AirPods protective case comes in a wide range of colors and styles. Styles include beautiful marble and floral prints. Another reason why this is included in our best AirPods case roster is that it comes with a bonus hard-shell case, ear hooks, and strap holders.
Buy now on SaharaCase.com.
USE CODE: AIRPOD15 at checkout for 15% off your SaharaCase AirPods case purchase!
2. Elago Hang Case for AirPods Pro - Nightglow Blue
The Elago Hang Case is a trustworthy case with character. The hang case is made of water- and shock-resistant material and has a 1.5mm raised lip to minimize the impact of everyday blunders. Don't be mistaken, though, this ultra-protective case is as attractive as it is protective. The hang case's textured design gives a rippled effect. That doesn't equal extra bulk either. The case is precision-molded to fit the wireless charging cases perfectly. Not to mention, Elago included a handy carabiner clip onto this model for easy carrying, too.
The charming design of this aesthetic AirPods case alone is worth the (very affordable) price. It will also set your AirPods apart from the sea of smooth, glossy white sameness.
Buy now on BestBuy.com.
3. i-Blason Cosmo Series Case for AirPods
Invest in a bit of luxury with the i-Blason Cosmo Series Case. Rather than silicone, the case is made of TPU and fits snugly over the body and lid in two separate pieces. The beautiful design really won us over with the unique combination of geometric patterns and marble textures in a range of eye-catching hues. To top things off, i-Blason has included an always-welcome PU leather strap that allows wrist wearing or backpack hanging.
Take note that some reviewers report the cover does not fit snugly over the case. Before writing off this case, though, make sure you put the case on correctly. To properly install, the logo must be placed to the front of the case. This ensures a snug fit. And, to remove, use a dull pencil or similar item to push the charging case out of the cover through the charging port.
Buy now on Amazon.com.
4. Litodream Decorated Hard Case for AirPods
Whether you're constantly daydreaming about the islands or you've made your home an indoor terrarium, we can all agree that this addition to our best AirPods case list is a hard case that's just too cool not to consider. The case is made of rigid TPU that is smooth to the touch. And, with the carabiner bonus, this case is the full package.
There are so many fantastic options for colors and prints. Even the most picky AirPods user will find something to love. We're partial to the palm leaf design, but there are a ton of other choices to meet any style and taste. The puppy paws design would be excellent for a dog lover.
Keep in mind that this case is protective, but at the price point, there may be some flaws. Reviewers have reported that the design wrap that we love may peel at the edges with time and wear. If you're looking for a cheap but protective case, hit purchase. But, if you're just as concerned about the case's aesthetic as you are the protection factor, proceed with caution.
Buy now on Amazon.com.
5. ICARER Leather Case for AirPods
If Indiana Jones had AirPods, this is the case he would use. This is a genuine leather case (unlike imitation plastic models) that protects your AirPods. And, despite the leather material, you can still charge your case wirelessly, as the case is only 1.5mm. We also particularly like the carrying clip on this model, which goes very well with its adventurous look.
The leather material makes this case especially unique, as the case gains more character as it wears from use. However, the leather won't be as protective as silicone or hard plastic material. 
Buy now at Amazon.com.
6. SaharaCase Sparkle Case for AirPods (3rd Gen) - Clear
This sleek and sparkly AirPods case is perfect for those seeking a minimalist AirPods case. The Sparkle Case from SaharaCase provides robust protection against scratches and dirt. The case is easy to put on but stays snug in place to provide ultimate protection.
The gold carabiner is a cute addition that is both functional and sassy. The TPU construction does not interfere with wireless charging and prevents yellowing. Not to mention the case is water-resistant!
Buy now on SaharaCase.com.
USE CODE: AIRPOD15 at checkout for 15% off your SaharaCase AirPods case purchase!
7. SGVAHY Plush Case for AirPods
This plush, dinosaur case isn't for the average AirPods user. But, for those daring enough, this will be a nice departure from the typical hard case.  The SGVAHY dinosaur's head flips up to reveal the AirPods case inside. The plush features a strap for easy fastening. When the dinosaur head is closed, he looks like a normal plush toy, protecting your AirPods from impact damage and theft. With this cute AirPods case, you'll be saying, "Gotta catch 'em all!"
Take notice that this case design is only practical if you carry your AirPods primarily in a bag. In addition, cleaning the plush case won't be as easy as wiping it down with a disinfectant wipe. A weekly tumble in the washing machine may be needed. 
Buy now on Amazon.com.
8. Pela Eco-Friendly AirPods Case
For the environmentally conscious among us, this compostable AirPods case from Pela is a fantastic and guilt-free choice. Much has been said of the AirPods' place in our disposable plastic society, so this eco-friendly AirPods case could be your way to do your part.
The Pela Case is well-designed, and the speckled, plant-based material is quite attractive. Once Apple inevitably comes out with a new version of the AirPods, toss this case into your garden and give it new life. Imagine doing that with a traditional plastic case!
Buy now on Amazon.com.
9. SaharaCase Retro Radio Case for Apple AirPods (3rd Gen) - Pink
How fun is this case?! This Retro Radio case from SaharaCase makes our list of the best AirPods cases for its quirky design. This protective case has legs that allow it to stand upright on flat surfaces and includes a stylish gold carabiner clip for carrying. This silicone case is perfect for those who like the retro style design and want something that stands out.
Don't let the design distract you from the case's protective features. The case is made from flexible silicone and TPU, protecting from potential impacts and scratches. The gold carabiner allows you to clip the case on your jeans, backpack, and elsewhere — completely eliminating the chance of accidental, butterfinger drops.
You won't find a case like this anywhere else! Show off your love of music by hanging this Retro Radio case on your backpack.
Buy now on SaharaCase.com.
USE CODE: AIRPOD15 at checkout for 15% off your SaharaCase AirPods case purchase!
10. Spigen Rugged Armor Case for AirPods
Spigen has a long history of thoughtfully-designed and impeccably-produced iPhone AirPods cases. This Rugged Armor Case is one of the best AirPods cases in the market today.
This is a two-piece hard case with a very sleek carbon-fiber design that's understated and unique. Because hard cases don't have much flex, they must be precisely engineered to fit over the AirPods case as snugly as possible without being too tight.
Spigen has succeeded in this regard. The case is easy to install but stays firmly and reassuringly attached. This is a stellar AirPods case that's well-deserving to be on our best AirPods case list.
Buy now on Amazon.com.
11. Casely Opposites Attract | Day & Night Colorblock AirPods Case
Casely offer this stunning desert scene color blocking case for AirPods that turns your AirPods into a work of art. This case is made from resilient plastic that offers waterproof protection along with drop protection. It comes with a silver carabiner so you can show off this stunning design while on the go!
It has a precise fit for 360-degree drop protection and is compatible with wireless charging. This case is part of the Maus Haus x Casely collaboration collection. Don't miss out on one of the best AirPod cases for art lovers.
Buy now on Getcasely.com
12. SaharaCase Urban Case for AirPods
There are a few AirPods protective cases out there that are as appealing as our Urban Case. Featuring a uniquely-patterned and thoughtfully designed silicone material that works, the Urban Case is just as attractive as protective.
Packing in a battery of extras, including a protective case, ear hooks, strap holders, and a handy belt clip, this cool AirPods case does it all for a steal of a price. Pick up your favorite color from a selection of many, and get on your way to your next — beautifully soundtracked via AirPods — adventure!
Buy now on SaharaCase.com. 
USE CODE: AIRPOD15 at checkout for 15% off your SaharaCase AirPods case purchase!
Shop the entire SaharaCase AirPods Case Collection.
AirPods Pro and AirPods Max Cases
Apple's latest AirPods Max and AirPods Pro releases have created a line of accessories to meet their design specifications. This means that you can't use the regular AirPods cases with either the AirPods Pro or AirPods Max.
You can browse our wide selection of AirPods Max and AirPods Pro cases to find the one that best fits your preferences.
Making a Case for AirPods
With so many AirPods choices out there — ranging from clever to extreme — it can be hard to pick out the best AirPods case for your needs. We hope this list has helped you decide which could be the perfect case for your AirPods. 
Head over to our store for a full range of stylish, durable, and affordable case and accessory options for all your devices, from AirPods to the iPhone 13, and even the Samsung Z Flip 3!
DON'T FORGET to USE CODE: AIRPOD15 at checkout for 15% off your SaharaCase AirPods case purchase!