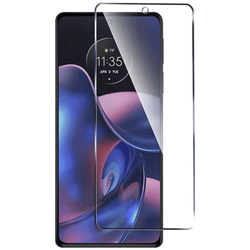 Safeguard the display of your Motorola Edge 2022 against damage with this SaharaCase ZeroDamage Ultra Strong+ screen protector. The scratch-resistant tempered-glass construction is durable and offers premium protection against accidental falls. This SaharaCase ZeroDamage screen protector comes with a micro-dust removal tape, alcohol prep pad and a lint-free cloth for effortless application.
Designed for use with Motorola Edge (2022)

Protects and complements your phone.
Scratch-resistant tempered glass
Guards your device's display against damage while retaining touch-screen sensitivity.
Resists fingerprints and smudges
Creates a neat, clean appearance.
Installation kit
Alignment stickers and microdust removal tape allow for easy, bubble-free application.